Miss Mabel's Magical Magnolia Tree
book
What if the Fountain of Youth existed in your own backyard? That is the blessing and curse discovered on a warm spring afternoon by 85 year old Mabel Cottonstine. It flows beneath her majestic magnolia tree, filling the tree and all of its flowers with the magic elixir of life. After making a batch of a sweet tea using the flowers, Miss Mabel turns back into a vibrant 25 year old. She shares the gift with her best friends Hazel and Gertrude and they suggest she sell the sweet tea to other old people to give them a second chance at youth. It is a huge success and Miss Mabel rakes in more money than she could have ever imagined. But, what happens when the love of the money she's making overtakes the reality that the magnolia tree only has so many flowers that can be made into the magical drink? (62 pgs.)
To find out what happens in this intriguing tale from author Christopher Setterlund, purchase online today. What's more, downloading a PDF copy will allow you to read this book whenever you're playing bingo online, or making your weekly grocery order via the internet. It really couldn't be easier - simply click on the link below.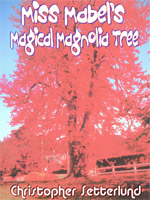 Download Your Copy
All works are available as digital PDF files.
Download This Book for only $4.50
Add to Cart - or - View Cart
Not sure if you want to buy just yet?
Preview coming soon...