The Quiet One
full-length novel
The Quiet One is a mixture of science fiction and fantasy revolving around a weak, shy young man named Stanley McGee. Stanley has been pushed around and passed over for seemingly his entire life. That begins to change when his identical twin brother, Max, begins giving him advice from deep inside his own mind. The advice works and Stanley's life becomes all he had hoped for until Max's own advice, filled by his own selfish greed and paranoia, turns more sinister.
Max suggests the only way for Stanley to keep all he has worked for is to kill off his competition before it is too late. Will Stanley listen to his brother, who has yet to steer him wrong? Or will he use his new found confidence to choose right over wrong? (215 pgs.)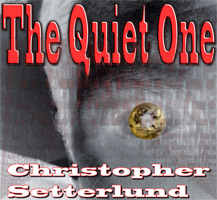 Download Your Copy
All works are available as digital PDF files.
Download This Book for only $6.00
Add to Cart - or - View Cart
Not sure if you want to buy just yet?
Preview coming soon...